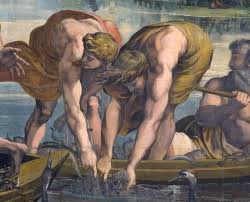 Central Idea: God chooses his messengers, including us.
Doctrine: Fear of the Lord.
Practical Application: Living as a child of God.
To view today's readings, click here. (Lectionary: 75)
Central Idea: God chooses his messengers, including us.
Is 6:1-2a, 3-8
In his vision, Isaiah is cut to the heart because he has experienced the holiness of God and then realized his own sins and the sins of his people.
"Woe is me, I am doomed!
For I am a man of unclean lips,
living among a people of unclean lips;
yet my eyes have seen the King, the LORD of hosts!"
The angel purifies Isaiah's lips with the burning ember. Then Isaiah embraces the Lord's request to bring his message to the Chosen People: "Here I am . . . send me," Isaiah says.
Ps 138:1-2, 2-3, 4-5, 7-8
God's servant will one day see full salvation.
All the saved, even those who were earthly kings, will be full of gratitude and will adore God for his glory, fidelity, greatness, kindness, and truth.
1 Cor 15:1-11
St. Paul reminds the Corinthians of the central truth of our faith, that Christ died for our sins and then rose from the dead.
At the time Paul wrote, his audience could verify the truth of the Resurrection, because the majority of person who personally witnessed the risen Christ were still living.
Like Isaiah, St. Paul was cut to the heart when he met the risen Christ on the road to Damascus. Christ made St. Paul an Apostle, just as the Lord chose Isaiah to be a prophet. Like Isaiah, Paul said yes to God's call.
Because of his response to the grace he received, St. Paul toiled harder than the other apostles to preach, so people would believe the deposit of faith handed down from Christ to his Apostles and then to us.
Gospel Lk 5:1-11
This Gospel reading is Christ's call of Simon to be an Apostle, to go from his normal life of catching fish to his supernatural calling of catching men.
Simon was not there on the seashore to hear somebody teach. He was washing his net with his crew after a disappointing night of catching nothing.
Jesus violated a boundary, getting into Peter's boat, and then he made a request to Peter, to put out a ways. Peter complied.
Jesus demonstrated his mastery of natural forces in acoustics by getting in a boat on a lake with a hillside behind it and using the surface of the water to carry his voice to the crowds, filling the natural amphitheater of the hillside.
Whether Peter had already known something about Christ or whether this was his first encounter with him, by the end Peter regarded the Lord as somebody you addressed as "Master," one who makes commands.
Jesus rewards Peter for letting him use his boat as a pulpit. Now Christ demonstrates his supernatural mastery over nature by making Simon take a phenomenal catch of fish, even though Simon, a professional fisherman, thought it was pointless since they had been fishing all night and caught nothing.
Like the wedding feast of Cana, this was a miracle of abundance: not just some wine for the wedding feast but lots and lots of very good wine; not just a few fish but so many that two boats were filled almost to sinking for the unsuccessful fishermen.
Simon is cut to the heart when he meets the incarnate "Law" of God, Jesus Christ the Messiah

like the remnant of Jews who return to Jerusalem under the leadership of Nehemiah and Ezra, who wept when they heard the Law of God read to them;
like Isaiah when he experienced the holiness of God in his vision;
like Paul on the road to Damascus;

Peter didn't have a chance. He was caught more surely than any fish in a net or with a hook in his mouth.
The call is to all of us, too, to put out into deep water and to do apostolate.
When we do apostolate, don't we have to break a boundary, to begin to talk about something "forbidden" in our society? We are in a sense hopping into somebody's boat if we bring up the faith. More and more, to speak about Christian faith and moral in public will be not only socially unacceptable but also illegal, de facto or de jure.
But we see that our Lord didn't just say things, however good the good tidings he preached were: He gave good gifts—food, drink, understanding, friendship, sight, healing, restoration, even life. Our own words, too, have to be preceded, accompanied, and followed by the giving of a good gift: an encounter with Christ. This is normally accomplished by the degree to which we have ourselves been transformed by Christ. As classics expert Fr. Michael Geisler has put it, the Christians of the first centuries transformed the brutal and hopeless Roman Empire through their charity, chastity, and cheerfulness. Those are gifts that Christ gives to people through his Apostles and disciples, including us.
Doctrine: Fear of the Lord.
We experience a lot of alienation in this life because of Original Sin and our actual sins. We are in a condition of being (rightly) suspicious and even afraid of nature, of other people, and even of ourselves. People are also afraid of God. If God exists, people fear what he might do to them. After their Original Sin, Adam and Eve "hid" in the Garden. People have devised countless ways to hide from God. Two popular ways today are incessant activity and consumption.
When it comes to God there is a right fear and a wrong fear. In the Act of Contrition we say we are sorry because we dread the loss of heaven and the pains of hell. That is a legitimate fear of God—that God judges sinners and I am a sinner. God is merciful but he is also just. God's justice is legitimate grounds for fearing God because of our sins.
The more perfect fear of God is also recited in the Act of Contrition: I am sorry "most of all because I offend thee, my God, who are all good and deserving of my love." God is infinite and perfect being, goodness, truth, beauty, and love. When we come up against that—as Isaiah, Peter, and Paul did—we experience a good dread. God is so deserving of my love but I am so far from having given it. There is such a gap between what I am and what God is that I ask for us to be separated.
Now we can get to the heart of the Church's own understanding of fear of the Lord. Through Baptism and sanctifying grace we are given a share of God's own life, making us adopted children of God. A perfectly good child of perfectly good parents has perfect piety. He never wants to disappoint them—not out of fear of punishment—but of offending them because of their goodness. You and I are trying to be good children of God. We are afraid of doing anything which might estrange us from God's goodness. But when we do, we come running back to our God who is "meek and humble of heart" (Mt 11:29).
Fr. John Hardon, S.J., says the gift of the fear of God has three elements: "a vivid sense of God's greatness, a lively sorrow for the least faults committed, and a vigilant care in avoiding occasions of sin." In addition, one of its effects is "a spirit of deep humility in dealing with others, especially with inferiors, since it makes a person aware that he or she stands constantly before the judgment of God."
Practical Application: Living as a child of God.
Play a game with yourself and God that nobody else can see, so you won't be embarrassed. Imagine yourself as you really are, as one of God's little children.

All a little baby can do to be fed is to open his mouth or, at best, to bring his hand to his mouth. Think of that when you receive Communion whether on the tongue or in the hand.
When you are waiting in line to go to Confession, tell God how you really feel, you don't want to go. You are the kid who doesn't want to take a bath. And afterward, you are still like that kid who is very happy that he did.
Prattle on to God about what you are thinking, about what you want, about what you need, about how you love him, about how you are sorry. Like a good child talking to his good father, ask him to help you grow into the kind of man or woman he wants you to be.
When you hear the Word of God, think of yourself as the child of God you are: Say, "God, tell me as story."
If you enjoyed this article, get email updates (it's free)