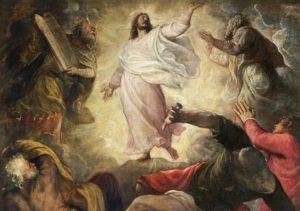 Central Idea and Doctrine:
The Transfiguration of the Lord

. Practical Application:

Taking up one's own cross

.

To view Lectionary: 614 click here.
Central idea: The Transfiguration of the Lord
Reading 1 Dn 7:9-10, 13-14
As I watched:

Thrones were set up
and the Ancient One took his throne.
His clothing was bright as snow,
and the hair on his head as white as wool;
his throne was flames of fire,
with wheels of burning fire.
A surging stream of fire
flowed out from where he sat;
Thousands upon thousands were ministering to him,
and myriads upon myriads attended him.
The court was convened and the books were opened.

As the visions during the night continued, I saw:

One like a Son of man coming,
on the clouds of heaven;
When he reached the Ancient One
and was presented before him,
The one like a Son of man received dominion, glory, and kingship;
all peoples, nations, and languages serve him.
His dominion is an everlasting dominion
that shall not be taken away,
his kingship shall not be destroyed.
Read in the light of the Gospel, we can see that this one like a Son of man, meaning like a human being, is Jesus Christ and that he is true God.

A sign of Christ's divinity is that like the Ancient One, whose "clothing was bright as snow, and the hair on his head as white as wool," in the Transfiguration Christ's "face shone like the sun and his clothes became white as light."
The fruit of Christ's passion and death is his resurrection, after which he received eternal "dominion, glory, and kingship."
While one day "all peoples, nations, and languages [will] serve him," we, his followers, are happy and privileged to serve him now in this present life.
Responsorial Psalm Ps 97:1-2, 5-6, 9
R. The Lord is king, the Most High over all the earth.

The LORD is king; let the earth rejoice;
let the many islands be glad.
Clouds and darkness are round about him,
justice and judgment are the foundation of his throne.

The mountains melt like wax before the LORD,
before the LORD of all the earth.
The heavens proclaim his justice,
and all peoples see his glory.

Because you, O LORD, are the Most High over all the earth,
exalted far above all gods.
Our psalm says in a different way what Daniel's vision revealed: Christ is the everlasting king of all created persons.
Reading 2 2 Pt 1:16-19
Beloved:
We did not follow cleverly devised myths
when we made known to you
the power and coming of our Lord Jesus Christ,
but we had been eyewitnesses of his majesty.
For he received honor and glory from God the Father
when that unique declaration came to him from the majestic glory,
"This is my Son, my beloved, with whom I am well pleased."
We ourselves heard this voice come from heaven
while we were with him on the holy mountain.
Moreover, we possess the prophetic message that is altogether reliable.
You will do well to be attentive to it,
as to a lamp shining in a dark place,
until day dawns and the morning star rises in your hearts.
Peter acknowledges that the atoning Passion and the glorious Resurrection of Christ are marvels but they, like the event at the Transfiguration, are not "cleverly devised myths" but true. He, himself, is an eyewitness.
This is why we "will do well to be attentive" to Christ's prophetic message. We should "listen to him" as the Father advises.
Christ and his message, that is Christ himself, everything he did and taught, and his sacraments, are to us like a lamp at night.
And if it is night for us now, the day of Christ, when we see him fully, will one day dawn for us.
Gospel MT 17:1-9
Jesus took Peter, James, and his brother, John,
and led them up a high mountain by themselves.
And he was transfigured before them;
his face shone like the sun
and his clothes became white as light.
And behold, Moses and Elijah appeared to them,
conversing with him.
Then Peter said to Jesus in reply,
"Lord, it is good that we are here.
If you wish, I will make three tents here,
one for you, one for Moses, and one for Elijah."
While he was still speaking, behold,
a bright cloud cast a shadow over them,
then from the cloud came a voice that said,
"This is my beloved Son, with whom I am well pleased;
listen to him."
When the disciples heard this, they fell prostrate
and were very much afraid.
But Jesus came and touched them, saying,
"Rise, and do not be afraid."
And when the disciples raised their eyes,
they saw no one else but Jesus alone.

As they were coming down from the mountain,
Jesus charged them,
"Do not tell the vision to anyone
until the Son of Man has been raised from the dead."
Just prior to this mountaintop vision, Peter, inspired by the Holy Spirit, had confessed that Jesus is the Christ, that he is the Son of the living God. From this point on, Jesus' thoughts and words turn to his passion, death, and resurrection (CCC 554, Mt 16:21).
Moses represents the Law and Elijah the prophets. Both Moses and Elijah had ascended mountains and spoke as men with God. Now they return to another mountaintop to speak to God made man.
Jesus, Moses and Elijah talk about what will be fulfilled in Jerusalem, which is Christ's departure, literally his exodus (Lk 9:31).
Christ's glorious appearance signals his glorious resurrection.
As St. Thomas points out, the Blessed Trinity appears on the mountain: "the Father in the voice; the Son in the man; the Spirit in the shining cloud" (CCC 555, STh III, 45, 4, ad 2.).
The words of the Father to the three apostles are enough for an entire plan of life for us. Because Christ is the beloved, well-pleasing Son of the Father, we can also give him our complete love. And because we love him, we listen to him, meaning we try to do what he wants us to do.
As the Collect for today's mass says, the Transfiguration "confirmed the mysteries of faith by the witness of the Fathers," that is, Moses and Elijah. It also "wonderfully prefigured our full adoption to sonship."
Doctrine: The Transfiguration
The Transfiguration connects Christ Passion with his Resurrection before either occurred. "Christ's Transfiguration aims at strengthening the apostles' faith in anticipation of his Passion: the ascent onto the 'high mountain' prepares for the ascent to Calvary" (CCC 568).
In addition, in the Transfiguration, Christ's gloriously transfigured body "contains and radiates" what his body, the Church, contains and radiates in the sacraments: In the words of St. Leo the Great, "the hope of glory." (CCC 568 (Col 1:27; cf. St. Leo the Great, Sermo51, 3: PL 54, 310c)).
Practical application: Taking up one's own cross
Christ's glory goes "by way of the cross" (CCC 555). Similarly, our glorification when Christ "will change our lowly body to be like his glorious body" (Phil 3:21) goes by the way of our cross (CCC 556).
Barnabas and Paul taught the first converts that "it is through many persecutions that we must enter the kingdom of God" (Acts 14:22). St. Augustine expands on what Jesus was saying to Peter (and to us) about the cross:
For now, Peter, "Go down to toil on earth, to serve on earth, to be scorned and crucified on earth. Life goes down to be killed; Bread goes down to suffer hunger; the Way goes down to be exhausted on his journey; the Spring goes down to suffer thirst; and you refuse to suffer?" (CCC 556, Sermo 78, 6: PL 38, 492-493; cf. Lk 9:33).
We can offer to God every bit of suffering that God permits us to experience. Further, we can endure it because we want to imitate Christ. And when we have sufficiently matured, we can even welcome suffering as our participation in the atoning sacrifice of Christ.
When we take up our own cross we begin the first stage of the spiritual life, the way of purgation, when with God's help we begin to root out the sinful man in us and start to imitate the sinless Christ.
The Homiletic Directory identifies the following Catechism points for the theme of the Transfiguration: CCC 554-556, 568